I am presenting 2 3 giveaways! :)

First stop: Evie-Bookish's International Box of Books Giveaway.
I am so excited about this. This is extremely big. Like enormous! And one lucky winner will take it all. I'll keep my fingers crossed about this. I badly want to win. This will run until March 1 and is open internationally.
What you can win? Behold...
To enter click
here
.
2nd stop: Literary Exploration's 800 Follower Giveaway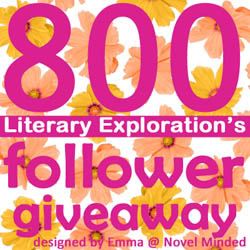 Anna of Literary Exploration has reached a very big milestone and to celebrate and give thanks she is doing this fun-filled giveaway. :D
Grand Prize Winner:
A mystery box of books and swag!
UPDATE: Upon reaching 900 followers she announced ONE item that will be in the box - A SIGNED copy of Shatter Me by Tahereh Mafi.
UPDATE: When she reached 950 followers she announced another item that will be in the box - A SIGNED copy of Under the Never Sky by Veronica Rossi.
2nd Place Winner:
UPDATE: She managed to reach 1,000 followers. Because of this, someone else will win a little something! It won't be a big mystery box like the grand prize winner, but it will be some swag and maybe a couple of books!
Great prizes, right? This is open to US residence only. To enter click here.
UPDATE!

3rd stop: Another awesome giveaway by Sparkling Reviews! :)
Looking for new Mac? Look no further! Enter Sparkling Reviews' 13in MacBook Air and Apple Giveaway.
Big giveaway right? For the whole info and how to enter, go here.