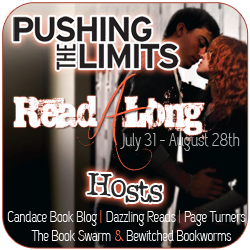 Questions of the week:
1.
At a certain moment, Echo tells Noah that she feels safe with him. Echo thinks that because of this comforting feeling, she may be able to finally have a full night of peaceful sleep. Why do you think it is important for Echo to feel safe? And why no one else but Noah has been able to provide this to Echo?

Noah and Echo both understand each other. In a way, this helps Echo feel safe with Noah. Also, Noah has been very supportive of her. They understand each others pain and for the first time since the incident she could just leave all her issues out in the open and be honest with herself.


2.
Beth, Noah's friend, also has a very complex life situation plus she also does drugs. However, what grabs my attention is her mean behavior towards Echo. Why do you think Beth hates/dislikes Echo so much?
Beth has a narrow perception regarding the likes of Echo. She is protective of her friends and her hostility with Echo is her way of looking out for Noah.
3.
At some point, we finally get to know how Noah's parents died at the fire and how it started. Unfortunately, this is something that has happened before. What tips to avoid a fire (especially when there are kids at home) do you know about?
Well, children in nature are very curious about their environment. They want to touch everything and play with anything they could get their hands on. The best way to prevent any accident especially a fire is to keep matches or any flameable objects away. As always, supervision goes a long way.


4 .
Echo finally discovers more about what really happened to her the day she got her scars at her mother's place. Unfortunately, this also involved Echo's father and Ashley. What do you think about them and to what point do you think it makes them responsible to what happened to Echo?
I really felt Echo's devastation here knowing that somehow her father had let her down. I really think everyone's responsible here. They're the grown-ups and they should have known by now how unstable Echo's mother is. But I still think Echo's mother is the most at fault here.


5.
On p.303 (of ARC) Echo said to Noah: "I love you…[y]ou love your brothers more. I'm okay with that. In fact, it's one of the things I love about you. You were right the other day. I do want to be part of a family. But I'd never forgive myself if I was the reason you didn't get yours… I love you enough to never make you choose." What do you think of Echo's decision to break up with Noah? What does it mean to you?
This was indeed one of the best scenes in the book. I was bawling and sniffing like crazy. This is just so heartbreaking for both of them. All his life, Noah has to choose. And now, Echo's giving him this one chance wherein there's nothing to choose from anymore and sadly, it's the most heartbreaking of all. It's very selfless of Echo to do this and it just showcased how brave she was and how willing she was to give everything to Noah even if that means walking away and giving up her happiness.